California judge rules coffee must come with cancer warning
California cancer warnings can give people the sense that just about anything they do might cause cancer.
California cancer warnings can give people the sense that just about anything they do might cause cancer.
California's Bixby Bridge, south of Monterey. Matt Snodderly / Shutterstock.com
In California, it seems you're never far from a reminder about cancer.
You can't park a car indoors in the Golden State without seeing a warning about the ways your cancer risk might spike.
In May, a California judge ordered that all coffee sellers in the state must post warnings about the potentially cancer-causing effects of a chemical in coffee called acrylamide, but the rule's by the state Office of Environmental Health Hazard Assessment, because there's not really any solid scientific evidence that coffee can cause cancer.
Acrylamide occurs naturally in small quantities when coffee beans — and many other plant-derived foods — are roasted, though research suggests the health benefits of drinking coffee vastly outweigh the risks.
California's warning rule comes from a 1986 state law called Proposition 65, which was enacted to protect California's drinking water supply from toxic, potentially cancer-causing chemicals. But the law also mandates that the state keep a master list of all chemicals known to be toxins, and requires manufacturers and businesses to warn people about these chemicals if they're present in products or buildings (even in extremely small doses).
There are more than 1,000 chemicals on California's cancer-warning list, which grows every year. Some chemicals on it have been proved to cause cancer, but not all. A chemical needs to have only a one in 100,000 chance of upping your risk for cancer to merit a written warning to consumers.
"We now have so many warnings unrelated to the actual health risk posed to consumers, that most people just ignore them," Oregon's Democratic Congressman Kurt Schrader said in a June release, blasting the new coffee warnings. "When we have mandatory cancer warnings on a cup of coffee, something has gone seriously wrong with the process."
Because the way cancer develops in the body is extremely complex, one's cancer risk isn't just about what we put in our mouths, cars, and lungs. Cancer has a lot to do with the genes in our body and our family history too.
For those and other reasons, many Californians and cancer experts lament that the warnings aren't all that helpful as written.
As the American Cancer Society says on its website: "The Prop 65 labels only tell you that a product has something in it that might cause cancer or affect reproduction. They don't say what the substance is, where it is in the product, how you might be exposed to it, what the level of risk is, or how to reduce your exposure."
Here are a few of the strangest things that carry cancer warnings in California.
Video: Only in California? Lawsuit seeks cancer warnings on coffee
California cancer warnings can give people the sense that just about anything they do might cause cancer images
2019 year - California cancer warnings can give people the sense that just about anything they do might cause cancer pictures
California cancer warnings can give people the sense that just about anything they do might cause cancer forecasting photo
California cancer warnings can give people the sense that just about anything they do might cause cancer photo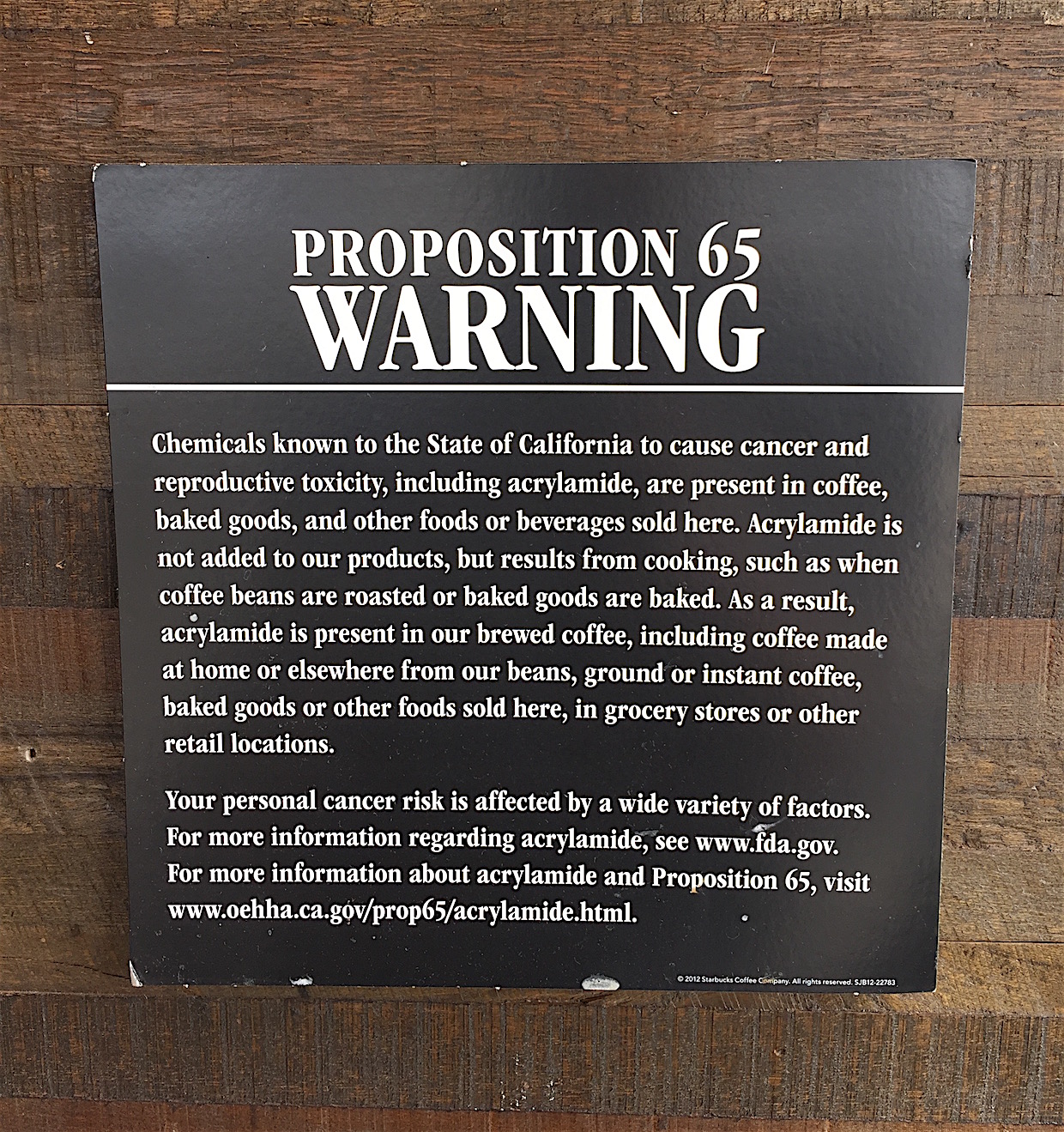 California cancer warnings can give people the sense that just about anything they do might cause cancer new pics
photo California cancer warnings can give people the sense that just about anything they do might cause cancer
Watch California cancer warnings can give people the sense that just about anything they do might cause cancer video
Discussion on this topic: California cancer warnings can give people the , california-cancer-warnings-can-give-people-the/ , california-cancer-warnings-can-give-people-the/
Related News
How to Convert Hexadecimal to Binary or Decimal
Trump, US, Mexico, Canada, NAFTA trade deal takes aim at China
How to Design a Book
The Complete Guide To Men's Workwear
Your Fat-Burning Workout Routine
I've been given a second chance': Andrea McLean discusses terrifying health battle
Eva Mendes announced as star of 2008 Campari calendar
Gap CEO would use Amazon
Spiced Pita Chips
Slow-Cooker Monday: Chicken Noodle Soup
Date: 11.12.2018, 02:29 / Views: 61531
---