Category: DIY crafts
This section presents unique master classes with step by step photos - how to make crafts with your own hands from a variety of materials. Today very popular crafts with their own hands, interior elements, handmade accessories. This direction attracts people of different social groups. A small thing of its own design and production makes an indelible impression on others. And the awareness that the artifact in a single copy, gives confidence to the author, allows you to feel unique.
DIY handicrafts
Needlewomen and craftswomen carved on wood, collect stunning beauty boxes, embroidery, sew dolls, make porcelain ballerinas. Those who want to have a thing that is done with love, and even more so that it is impossible to repeat it, is not diminished. In contrast, collectors of handcrafted items are becoming more and more.
How to make a boat out of paper - 10 options
Wait until spring comes and, wearing rubber boots, run through the melting snow. Better yet, go run the ships in the nearest stream. So did our parents, and our grandparents. And their technology ...
- Read more -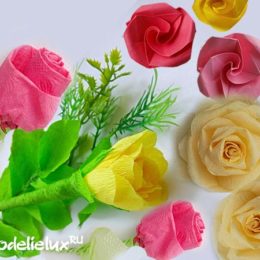 How to make roses from paper - 5 options
Beautiful roses - this is always true, they adorn our lives and elevate mood. I want them to be everywhere, because you can admire their natural grace for a long time. But the beauty of natural flowers is very short-lived ....
- Read more -
Related News
Compressor from the tire inflator
How to make a daffodil with your own hands
Practical solutions for a small hallway. Furniture
Paper model of a robot umbrella (BRL-A) from mf WALL-E
Tang-style knife
Do-It-Yourself Day Postcard
Dragonfly Bead