Quality and style of vinyl wallpaper
Recently, wonders have been happening on the building materials market. The choice of materials for the repair of premises is so diverse that sometimes you do not know what to prefer. For wall decoration offers a huge selection of wallpapers, panels, tiles. O-DECOR company will help you to choose high-quality and suitable for your interior wallpaper. Of course, the walls of rooms are more solidly covered with wallpaper, the diversity of which also has no limit.
A little about the creator of vinyl wallpaper
The most special kind are considered to be vinyl wallpaper. These wallpapers have appeared on the market since 1947, thanks to a chemist from America, Waldo Simon. He created them from polyvinyl chloride, which was an innovation in those times. Thanks to this man, people saw all the charm of vinyl wallpaper. This wallpaper consists of two layers:
The first one is paper or non-woven.Flizeline can be glued;
The second (top) is made of polyvinyl chloride, which is able to withstand all the pollution . The top layer is illustrated or decorated with embossing. These wallpapers, thanks to their structure, are considered the most durable and unpretentious in the world of wallpaper.
Forms vinyl wallpaper designs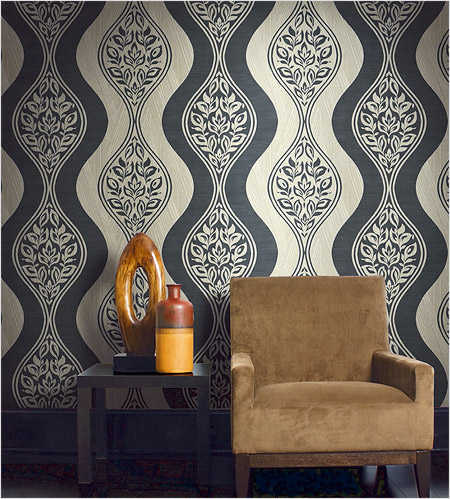 There are two types of forms of execution:

The first one, due to its structuredness based on foamed vinyl without embossing, helps with gluing hide all the bumps in the walls;

The second one is made using hot embossing technology, which is considered chemical embossing and makes wallpaper more heavy. These wallpapers are made to imitate heavy materials, such as stone or textile. For this, an invisible layer of PVC is applied on top of the second layer, a pattern or embossing is applied on top of it, which makes them very practical, so they are not afraid of any mechanical loads, they are considered very strong.

Silk screen printing technology is also used in the creation of vinyl wallpapers.
>style="color: #222222; font-family: Verdana; line-height: normal;">Silk-screen printing allows you to make wallpapers that fit harmoniously into any design. Wallpapers made by silk-screen printing technology have such qualities as gloss and smooth texture. Due to their silk properties, they are mainly used to perfectly align the tone of the walls.
Chemical embossed vinyl wallpapers are particularly durable and UV resistant, and also very easy to clean when cleaning.
Vinyl wallpaper has the following advantages
They serve their masters for a long time (more than 10 years);

A very rich variety of colors and textures that fit any design;

They are very resistant to fading.
Related News
Energy Balls
Marina Fedunkiv stood up for Olga Buzova
Postcard with lilies of the valley in quilling technique
How to lay linoleum without help
Gloxinia at home
How to decorate the house