Stone Finish
At the mention of a decorative stone in the interior, the first thing that comes to mind is a medieval room with a fireplace. However, the modern interior has stepped far forward in the use of decorative trim and.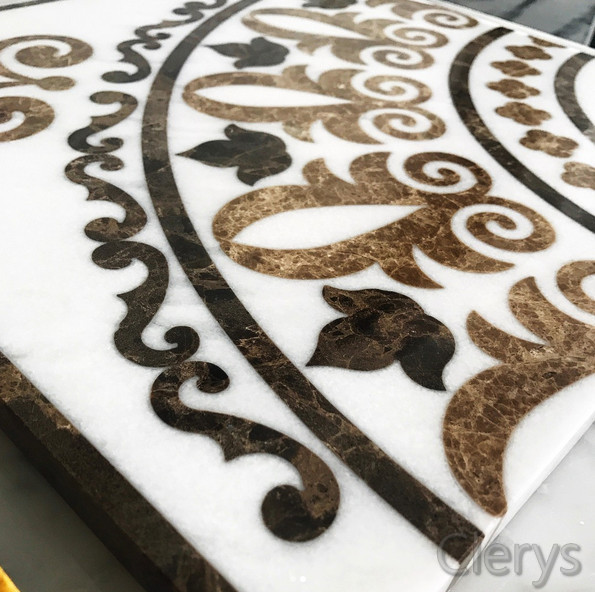 An artificial or natural decorative stone is used for interior decoration.
Decorative artificial stone is divided into:
1. Sawn - the unpolished front part resembles a natural stone, stylized as a sawn rock;
2. Chipped - has the form of "downed" breed;
3. Butovy - stylized for boulders and pebbles;
4. Fantasy stone - complex in color and texture stone, not found in nature;
5. The finishing tile - imitates smooth natural surfaces, such as granite and marble;
6. Mosaic - decorating the surface with small pieces of stone;
7. Brick - a variety of texture variations that repeat the brickwork.
Mostly in interior design an artificial decorative stone stylized as a brick is used.It can have any texture and shade, which allows it to be adapted to almost any interior, be it a kitchen apron, a wall in a living room, or a certain part of it, for example, in a hallway. Often used decorative stone that looks like a natural.
When facing surfaces with natural stone, limestone, sandstone, gabbro, travertine, labradorite, slate, marble and granite are most common.
Limestone has a porous structure, due to which it has good sound insulation and retains heat perfectly.
Sandstone has less thermal insulation, its use is undesirable in cold climatic regions. Widespread use due to its cheapness and ease of processing, as well as its unusual color gamut due to the inclusion in the breed of various impurities.
Gabbro, it is also called "black granite", is highly durable, does not absorb dirt and moisture, has a low cost compared to other breeds. Used when facing walls, kitchen countertops.
Travertine is medium strength, has the ability to absorb moisture and dirt, so it is not suitable for the kitchen. Most suitable for bathrooms.
Labradorite is a high-strength rock with good polishing properties.Suitable for decorating walls, floors, countertops and window-sills. Most often used for facing fireplaces.
Slate is resistant to cleaning agents, grease, alcohol, therefore it is most often used in rooms with high pollution and humidity, such as a hall and bathroom.
The most popular and at the same time expensive in decoration is marble. Due to its high moisture resistance, it is used in facing the walls and floors of bathrooms, in the form of kitchen worktops.
Granite, like marble, is used in the design of stairs, fireplaces, fountains. It has high density, hardness and frost resistance, but has a small residual radiation. Therefore, in the decoration of interior spaces, granite must be used with extreme care.
Decorative stone is perfectly combined with wallpaper, plaster, stucco, wood, glass, in harmony with the metal elements of the interior, as well as with green plants.
It is important to correctly determine the texture and color of the surface. Stones of a light shade will help to expand the room visually. Within one room, it is not necessary to combine more than two kinds of rocks, it is better to use one material of similar shades.
Decorative stone laying
With a clean, even, durable surface, it is necessary to remove contamination for better adhesion with the material. Before starting laying, moisten the back side of the stone and the surface to which it will be attached. If there are corner elements, it is necessary to begin laying with them. Masonry can be either end-to-end or with a seam. Laying rows is better offset by the type of brickwork. So you can achieve the most natural result. If necessary, the stone can be given the desired shape using the grinder. However, it is better to entrust the cutting of granite and marble to professionals.
After the solution dries, the auxiliary elements are removed, if any, and excess solution is cleaned, the seams are filled with silicone grout. Unlike artificial, natural stones are treated with a protective primer to prevent the formation of a fungus under the influence of moisture.
Related News
Alta Vinyl Siding Profile
Practical solutions for a small hallway. Furniture
Child development calendar up to 1 year old
Stand Decor
Bulb lamp