Winter strawberry cultivation
It has long been engaged in the cultivation of strawberries in the garden. I have several remontant varieties that bear fruit throughout the summer.
And when I saw on the Internet advertising about growing strawberries at home, I decided to try. The girl praised her technique and offered to buy a CD with information about winter berry growing. I did not buy the disc, but simply scored the land and planted seedlings in the fall on the windowsill.
At first everything was fine, strawberries grew and developed. But by December, the new leaves had become very weak and a brown border began to appear on them. After their removal, the rim immediately appeared on the other leaves. Some bushes began to die from the black leg. In the end, all the bushes died.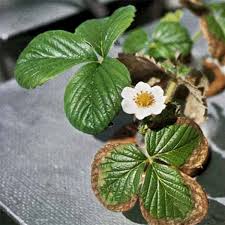 The following year I planted the seedlings in the apartment again. This time I began to highlight them with a 40 watt lamp. Strawberries looked noticeably better, but the brown rim still appeared. Berry seedlings were given only in April.And it was difficult to call it a harvest.
Related News
Lunar beauty calendar for April
DIY Ice Crafts
Aquarium in a Vase
How to cook delicious homemade belyashi
Imitation granite masonry
The simplest scheme of automatic control of the water level